I hadn't really paid much attention to The National before a friend gave me Alligator on CD. I was instantly hooked, and easily reeled in by the smoky seduction of Matt Berninger's voice and lyrics, and the raw backing provided by the rest of the band. Since then, well, I don't want to give up any spoilers, but I haven't been truly disappointed by anything I've heard, and I've been mesmerised on several separate occasions by their stunning live shows. Working backwards from Alligator to the beginning, and then considering the lifetime of The National to date reveals a band that has slowly but surely refined its art and approach in increasingly delicate measure, reducing, with each successive release, the breadth of the strokes needed to produce the emotional resonance in its music.
Alligator was released on 11 April 2005 in the UK (12 April in the US), so tomorrow (at the time of writing) I'll be spending a few hours working my way through their studio catalogue. Unusually, I've added in two not-really-albums - Cherry Tree and The Virginia EP: I think they fit nicely into the discography, there is enough new material on each to make them interesting as standalone pieces, and in the case of Cherry Tree at least, not a release I'm very familiar with.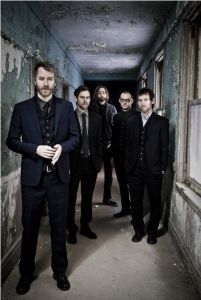 The full running order is:
The National (2001)
Sad Songs for Dirty Lovers (2003)
Cherry Tree (2004)
Alligator (2005)
Boxer (2007)
The Virginia EP (2008)
High Violet (2010)
Trouble Will Find Me (2013)
Links to reviews will be added as I complete them during the day.